Prince William and Kate Middleton have kissed twice on the balcony of Buckingham Palace after their wedding service in Westminster Abbey. This ROYAL KISS (minutes ago) becomes a example for the future Fashion....
They were cheered by 500,000 well-wishers who gathered outside the palace, as RAF planes flew past in honour of the new royal couple.
Police estimate a million people lined the procession route from the abbey to the palace.
The bride will now be known as the Duchess of Cambridge.
The Queen is hosting a buffet reception at the palace for 650 guests.
Street parties
The dress was designed by Sarah Burton
The church service, watched by 1,900 guests, ran smoothly but the prince did struggle to place the wedding ring on the duchess's finger.
Following a long tradition, the ring has been fashioned from Welsh gold given to Prince William by the Queen.
After the couple said their vows, in which she did not promise to obey William, the Archbishop of Canterbury, the Most Reverend Rowan Williams, declared: "I pronounce that they be man and wife together, in the name of the Father, and of the Son, and of the Holy Ghost. Amen."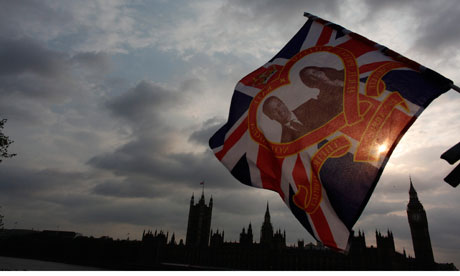 They spent a private moment together with their families, as they signed the marriage register.
Prince William has been given the title of the Duke of Cambridge by the Queen, and Miss Middleton has become Her Royal Highness the Duchess of Cambridge on their marriage.
The duchess, who managed to keep her wedding dress a secret, is wearing an ivory and lace gown by Sarah Burton at Alexander McQueen. The prince is wearing the red tunic of an Irish Guards colonel - his most senior honorary appointment.
Well-known faces spotted at Westminster Abbey included singer-songwriter Sir Elton John and his partner David Furnish, former England rugby coach Sir Clive Woodward, and former England football captain David Beckham and his wife Victoria.
Actor Rowan Atkinson, a close friend of Prince Charles, Prince Harry's friend Chelsy Davy and film director Guy Ritchie were also there.
UK Prime Minister David Cameron and his wife Samantha, Australian prime minister Julia Gillard, former British PM Sir John Major, and Home Secretary Theresa May were among the politicians present.